Acts on multiple pathways in the clotting cascade to facilitate coagulation in an in vitro analysis2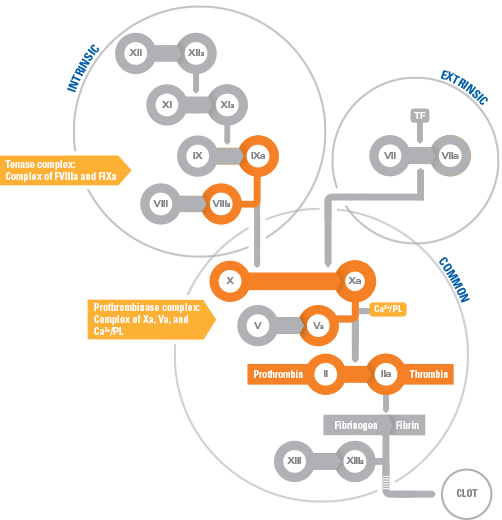 FEIBA contains additional factors that target multiple sites within the coagulation system. FEIBA contains mainly non-activated forms of factors II, IX, X, and mainly activated factor VII
Provides both FII (prothrombin) and FXa for thrombin generation
Selected Important Risk Information for FEIBA [Anti-Inhibitor Coagulant Complex]
WARNING: EMBOLIC AND THROMBOTIC EVENTS
Thromboembolic events have been reported during post-marketing surveillance following infusion of FEIBA, particularly following the administration of high doses (above 200 units per kg per day) and/or in patients with thrombotic risk factors.
Monitor patients receiving FEIBA for signs and symptoms of thromboembolic events.
CONTRAINDICATIONS
FEIBA is contraindicated in patients with:
History of anaphylactic or severe hypersensitivity reactions to FEIBA or any of its components, including factors of the kinin generating system
Disseminated intravascular coagulation (DIC)
Acute thrombosis or embolism (including myocardial infarction)
Manufacturing
FEIBA offers advanced plasma processing.
Learn More
Efficacy and Safety Data
Find out how FEIBA helped patients with hemophilia A or B with inhibitors in a clinical trial.
See the Data